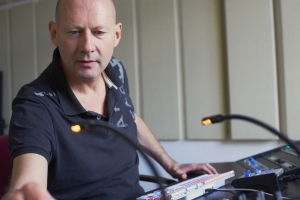 Michael Kunz, Mastering Engineer
I studied classical percussion at the Richard-Strauss Conservatory and Jazz Drums at the Joe Haider Jazzschool in Munich. I took classes at the Professional Percussion Center in New York City and finally worked as a studio – and session drummer with a big variety of artists. Inspired by my experience in studio recording I became more and more interested in the technical side of music production. In 2008 SoundSupport Mastering was founded.
Transparent and punchy Mastering

Individual treatment for each track

Analog and digital tools

Attended sessions or upload via FTP

Close communication with the client
If you are looking for transparent and punchy Mastering, SoundSupport is the place for you.
I am Michael, Mastering Engineer and owner of SoundSupport Mastering.
Since its formation in 2008 SoundSupport keeps creating lots of thrilled customers.
From Electro thru Pop, Soul and R&B on to classical, all musical styles find their home here.
I dedicate a maximum degree of attention to each track in terms of dynamics, frequency ranges, stereo width and spatial attributes. My tools consist of analog and digital equipment.
You're welcome to attend Mastering Sessions or you may upload your tracks via the SoundSupport FTP-server. Feel free to talk about your projects with me.
Conversion:
Prism Sound ADA-8XR
Lavry Gold AD122-96 MX
Artistic Fidelity Acousence
Crane Song Solaris & HEDD-192
Metric Halo LIO-8
Juenger Audio accent2, Digital Dynamics Processor & DA/AD Converter
Apogee Big Ben
Analog Processing:
KNIF SOMA, Mastering Equalizer, Passiv with Tube Gain Stage
KNIF PURE MU, Mastering Tube Compressor
Millennia NSEQ-2, Mastering Equalizer with Forssell Board
Custom built Mastering gear from adt-audio:
MS-Mastering EQ
MS-Mastering Compressor
Mastering Limiter
4-band Shelving-EQ
Stereo Base Tool
Workstation:
Z – TOOLS Dual Boot Computer with Windows and Mac OSX
Studio Monitoring:
amphion Two18
Monitor Control custom built from adt-audio
Digital Processing:
Juenger accent2,  Izotope,  Waves, Sony-Oxford,  PSP,  Voxengo,  SPL, Harrison Consoles
Daws:
Magix Samplitude Pro X3 Suite,  WaveLab Pro 9,  Pro Tools 11,  Harrison Mixbus.
You can find more detailed info about how to deliver your tracks for mastering in the FAQ section of this page. Nevertheless, I always would recommend a personal conversation prior to starting the mastering process.